Ice Fishing in Southern Maine
Have you ever wanted to go ice fishing but don't know where to start?
Ed Snell is a Registered Maine Guide and your ambassador to successful ice fishing.
Ed Snell has been fishing since he was a kid, and has spent countless hours on frozen ponds in search of fish. Join Ed for a full day ice fishing
excursion, (roughly 7 hours) to see what ice fishing is all about. We offer several packages, which can be tailored to fit your specific goals for the day.
Introduction to Ice Fishing
We'll set tip ups, called traps by Maine ice fishermen, and while we wait for fish to bite and the flags to fly, on the full day trips, we'll enjoy a traditional shore-lunch, prepared on a camp stove, right on the ice. Steady action is the goal on these trips and they're enjoyable for experienced and novice anglers, alike. Beautiful scenery, active fish and good food are a sure cure for cabin fever. Lunch is included with full day trips.
Half Day Trip Cost is $350 up to 4 people (roughly 3-4 hours)
For more than 4 people an additional guide may be necessary
Full Day Trip Cost is $500 for 1-4 people
For more than 4 people an additional guide may be required
1/2 Day Panfish Special
A good option for steady action of good eating fish. While there are no guarantees in fishing, black Crappies, bluegills and perch typically bite well. We'll use modern electronics and light tackle to zero in on biting fish. At the end of the trip, We will fillet your catch for you, right on the ice.
Half Day Panfish Cost is is $350 limited to 3 people total. Available as soon as safe ice conditions exist (roughly mid December) until March 31st
Sebago Lake Trips
For more experienced anglers, looking for bigger fish, we offer a Sebago Lake Togue (Laketrout) excursion. We primarily jig with the aid of electronics in search of large togue. Ice conditions can be extremely variable, so some flexibility for these trips is best.
Full Day Trip Cost is $500 limited to 3 people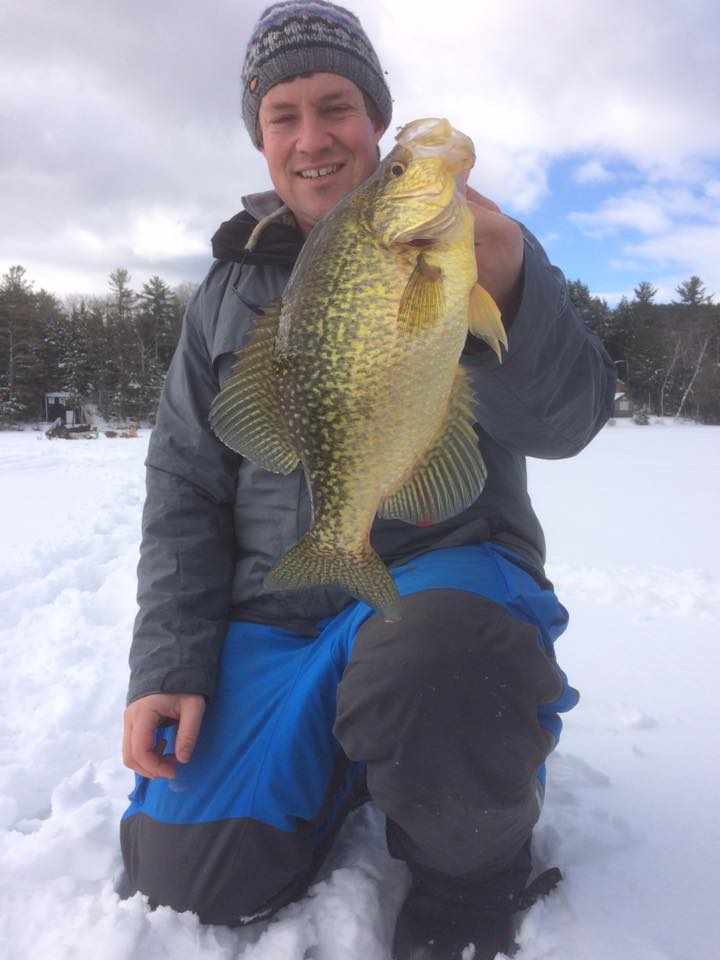 What you'll need to bring:
Bait, tackle, lunch, and jokes included
Generally speaking, Ice fishing is cold. You'll need to dress appropriately in order to enjoy your trip!
If you don't spend much time outside during the winter, you'll need the following clothing items:
Warm, insulated winter boots with heavy wool socks, Smartwool is an excellent brand.

Make sure your heavier socks aren't too tight in your boots, that will make your feet cold!

Base layer, long johns; avoid cotton. Wool or poly-pro is best.

Mid Layer, polar fleece or heavy wool sweater. Sometimes two mid layers are required if it's really cold.

Water resistant snow pants

Warm winter jacket

Neckwarmer or scarf

Winter mittens or gloves

Warm winter hat

Sunglasses and sunscreen are surprisingly helpful for combating the sun's reflection off of the ice and snow
Frequently Asked Questions
Is the ice safe?
We won't go if the ice conditions where we are fishing aren't safe. People often get confused by blanket warnings issued for large areas. In reality, ice conditions vary greatly depending on the size, and location of a given pond. Here's a link to a guide for ice thickness and safety
What Types of fish will we catch?
Generally I try to plan the trips around steady action. For this reason, stocked brook trout, pickerel, pike, black crappie and perch are most
common. If there's a type of fish you'd specifically like to target, you can discuss it when booking your trip. We offer Sebago Lake trips for more experienced anglers looking to catch larger lake trout.
Can we keep the fish we catch?
You may keep any LEGAL fish that you catch. We may even have one for lunch! To fish with me, you must agree to follow all fish and game laws.
How will we know where to meet?
We'll contact you within 48 hours of your trip to finalize trip details including a meeting place, dietary restrictions, special medical concerns and the day's predicted weather.
Where are you located?
I don't have a single set location. I live in Southern Maine, but will travel to fish lakes and ponds ranging from the New Hampshire border to the
Belgrade Lakes Region. We'll choose the fishing destination based on where you're staying, what types of fish you'd like to catch, and where I've had success in the past. Lakes and ponds in the Bridgton, Sebago, Naples, Belgrade, Denmark and many other areas of Maine are where I fish regularly. Remember, trips CAN be tailored to your specific situation.
What if the weather is bad?
I reserve the right to cancel any trip at any time if I feel extreme weather will negatively affect the safety of the trip. The most likely reasons to
cancel are extreme cold coupled with high winds. Snow flurries are manageable, blizzards are not. If the weather is bad, we'll pick another day. Some days are best spent at home, in front of a wood stove!
What is your cancellation policy?
If you cancel your trip more than one week before the scheduled date, your deposit will be refunded. If I have to cancel the trip, we will reschedule if at all possible. If rescheduling is not possible, I'll refund your deposit in full.
Am I required to tip?
It's traditional to tip guides for good service, If you feel we've done a good job, tips of 10-20% are customary and strongly encouraged!
Can I bring alcohol?
You are welcome to bring alcohol, though I have zero tolerance for intoxication or illegal drugs, I reserve the right to cancel the trip, at any time, due to unsafe behavior without refund.
Do you offer fishing trips in the summer?
Yes! We offer several different saltwater, deep sea sport fishing charters aboard the F/V Rita B. as well as sightseeing cruises around Casco Bay.

Once you've confirmed your trip detials with your guids, you can make a deposit or pay for a trip use the paypal button below.